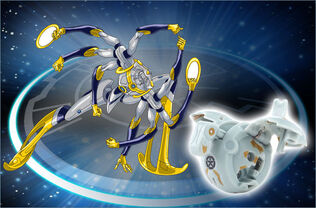 Brontes is a Haos Bakugan that belongs to a Vexos brawler Volt.
Appearance
Edit
A long and slender robot with eight arms sticking out of his head that act as a propeller. Brontes has a smilling fface like a joker or a down, with a disturbing laugh to match.
Battle Style
Edit
Brontes has no fear. He will use forbidden abilities, which may destroy his own body, and will challenge even the strongest opponents.
Where You've Seen Him
Edit
Vexos brawler Volt uses Brontes in battle. Volt skillfully uses Ability Cards with Brontes to shake opponents' confidence. Brontes played a big part in the battle of Volt versus Ace and Shun in the Alpha City stadium.
What You Should Know
Edit
Like Altair, Brontes is a mechtanical Bakugan. Brontes has no wings but can fly using propeller on this head.
Ad blocker interference detected!
Wikia is a free-to-use site that makes money from advertising. We have a modified experience for viewers using ad blockers

Wikia is not accessible if you've made further modifications. Remove the custom ad blocker rule(s) and the page will load as expected.