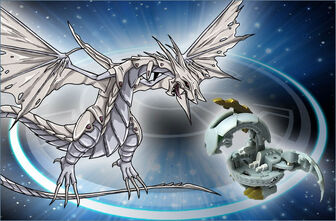 Naga
Appearance
Edit
A colossal dragon with tattered wings and a body that looks like a skeleton.
Battle Style
Edit
This power-hungry Bakugan will do anything to win a battle.
Where You've Seen Him
Edit
Naga opened up the portal between Earth and Vestroia when he tried to obtain the power sources of Vestroia fro himself. A hug explosion rocked the universe, and Naga ended up adsorbing the negative energy of the Silent Core. He recruited Masquerade and Hal-G to help him find the location of the Infinity Core, so he could finally obtain the iltimate power over Vestroia and Earth. In the end, a power overload ended Naga's reign of terror for good.
Ad blocker interference detected!
Wikia is a free-to-use site that makes money from advertising. We have a modified experience for viewers using ad blockers

Wikia is not accessible if you've made further modifications. Remove the custom ad blocker rule(s) and the page will load as expected.